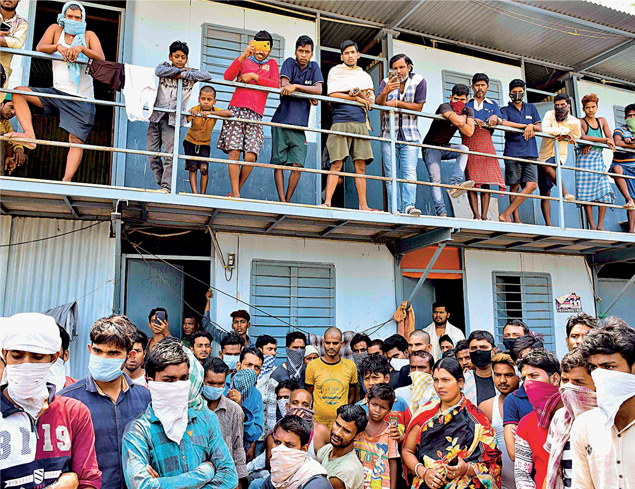 On Friday  The Ministry of Home Affairs (MHA) announced extension of the nationwide lockdown for a further period of two weeks. The third phase of lockdown will come in effect from May 4 and will continue till May 17.
In an order issued by the Government of India under the Disaster Management Act 2005, the Home Ministry released new guidelines to regulate and monitor different activities in this period, based on the risk profiling of the districts of the country into Red, Orange and Green zones.
According to the official notice, districts falling in the Green and Orange Zones have been granted considerable relaxations while there clusters under Red Zones will continue to follow restricted economic activities.
Travel by air, rail, metro and inter-State movement by road; running of schools, colleges, training/ coaching centres and other educational institutions; hospitality services, including hotels and restaurants; places of large public gatherings, such as cinema halls, malls, gymnasiums, sports complexes; religious places/ places of worship for public; Social, political, cultural and other kinds of gatherings will remain closed fully all over India.
The most sensitive areas of the country, from the spread of #COVID19 point of view, and falling within the Red and Orange Zones, are designated as Containment Zones#Lockdown3 #LockdownExtended pic.twitter.com/OIQol2Dc9p

— PIB in Maharashtra 🇮🇳 (@PIBMumbai) May 1, 2020
However, certain activities have been allowed in the Red Zones, with restrictions. These include:
Movement of individuals and vehicles for permitted activities, with a maximum of 2 persons (besides the driver) in four-wheeler vehicles, and with no pillion rider in the case of two-wheelers
Industrial establishments in urban areas, viz., Special Economic Zones (SEZs), Export Oriented Units (EOUs), industrial estates and industrial townships with access control
Manufacturing units of essential goods, including drugs, pharmaceuticals, medical devices, their raw material and intermediates
Production units, which require continuous process, and their supply chain
Manufacturing of IT hardware
Jute industry with staggered shifts and social distancing
Manufacturing units of packaging material
Private offices can operate with up to 33 per cent strength as per requirement, with the remaining persons working from home
All industrial and construction activities in rural areas, including MNREGA works, food-processing units and brick-kilns are permitted
In rural areas, without distinction to the nature of goods, all shops, except in shopping malls are permitted
All agriculture activities, e.g., sowing, harvesting, procurement and marketing operations in the agricultural supply chain are permitted. Animal husbandry activities are fully permitted, including inland and marine fisheries.
A large part of the financial sector remains open, which includes banks, non-banking finance companies (NBFCs), insurance and capital market activities, and credit co-operative societies.  Operation of homes for children, senior citizens, destitutes, women and widows etc.; and operation of Anganwadis has also been permitted.  Public utilities, e.g., utilities in power, water, sanitation, waste management, telecommunications and internet will remain open, and courier and postal services will be allowed to operate
MHA issues order to further extend #lockdown for 2 weeks beyond 04.05.2020, to fight #Covid_19.
New guidelines have permitted considerable relaxations in #Lockdown3 restrictions, within the districts falling in the Green and Orange Zones. pic.twitter.com/hkp6NHaCjq

— Spokesperson, Ministry of Home Affairs (@PIBHomeAffairs) May 1, 2020
As far as the clusters of Green zones are concerned, the government has permitted all activities except the limited number of activities which are prohibited throughout the country, irrespective of the Zone. However buses can operate with up to 50 per cent seating capacity and bus depots can operate with up to 50 per cent of total vehicle strength.
The order from Home Ministry further read that no separate/ fresh permissions will be required from authorities for activities already permitted to operate under the guidelines on lockdown measures up to May 3, 2020.